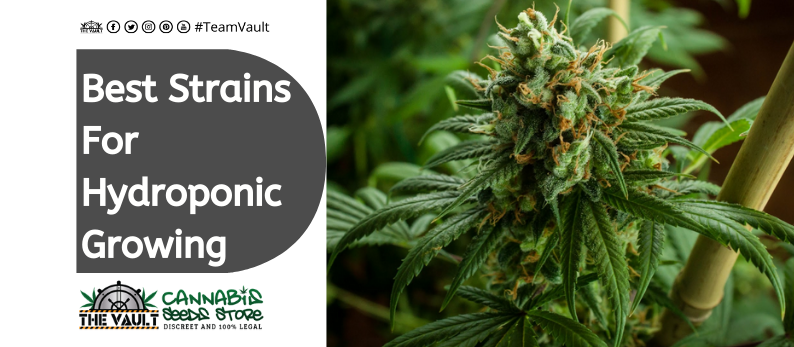 When we are trying to decide how to grow our crops, one of the most common mistakes is not researching strains. Certain strains do better in certain grow environments than others. For example, one strain that may thrive in a grow room may do poorly outdoors, or another that thrives in a greenhouse will struggle in a hydroponic setup. Today we are talking about the best strains for beginner growers who want to grow hydroponically. Of course, the mear fact that these strains do well in hydroponic setups does not mean they can be popped into the system and left to their own devices. It is still important to research every aspect of growing before getting started.
Blue Dream
This strain is a combination of Indica and Sativa but is clearly Sativa dominant. She is usually recommended for commercial growers due to her amazing yields and thick, robust buds. She is also known for her high THC content of 19 – 20%. The fact that she is potent and high yielding makes her a great choice for those who are just starting out with hydroponic growing. Her effect is relaxing and calm with a lovely uplifting hit of cerebral happiness. She is often recommended to those suffering from lack of appetite, pain, stress and fatigue. For non-medicinal users she makes the perfect chill-out strain. Run a bubble bath, have a smoke and just let the many stresses of the world melt away. She was born from a combination of Blueberry and Super Silver Haze, which explains here excellent genes. She has also held on to the lovely fruity scent and flavour of the Blueberry parent.
Green Crack
This little lady is another genetic masterpiece perfect for hydroponic growing. She is a combination of Skunk#1 and Afghani, two of the original cannabis strains. Green Crack is a vigorous, high-quality strain that produces impressive yields of powerful buds. Her aroma is a mix of tropical fruit and her flavour is mouth-wateringly sweet with a hint of spice. This is another Sativa dominant strain and her effect is classic Sativa. She is uplifting, euphoric, cerebral, and stimulating. This makes her the ideal strain for creative types or for socialising. Green Crack also came 3rd in the 2011 Treating Yourself Expo Compassion Clubs Cup. She will thrive in a well set up hydroponic system and will usually take around 55 days to flower.
SFV OG Kush
SFV OG Kush is a multi-award winning mega strain that promises fantastic yields from uniform plants. Her awards include 3rd Place Indica at the High Times Amsterdam Awards and 1st Place at the High Times Medical Cup in Denver, both in 2012. This strain does well when she is given a little more time in her harvest. Her plants are known for being easy for new growers due to their uniform nature. They also need very little love and attention to create large yields of top-quality buds. The flavour and scent of the buds are a mix of spice, herbs and lemon. Lineage wise she is a combination of San Fernando Valley OG and Afghani #1. This means that she is a pretty balanced combination of Sativa and Indica. The resulting effect is pleasantly relaxing with a happy little kick. Ideal for chilling and watching a film or just reading in bed.
Jack Herer
This is likely a name that's immediately recognisable. One of the most famous strains on the market, named after cannabis activist legend and author of The Emperor Wears No Clothes, Jack Herer. Unsurprisingly this strain does well in a hydroponic growing environment because it basically does well everywhere. The reason for this strain's success is often thought to be down to its genetics. She is a mix of Skunk#1, Haze and Northern Lights #5. Jack Herer's effect is extremely euphoric and uplifting, perfect for those of us who are struggling with depression or are generally bummed out by the state of the world. She is Sativa dominant and has an impressive THC content of 20%. Jack Herer has won the High Times Cannabis Cup a number of times, and for good reason. She has a flowering time of just 9 weeks and is perfect for hydroponic growing.
Sour Diesel
Sour Diesel is another award-winning strain that is well known for being one of the most potent on the market. She is a balance of Sativa and Indica with an effect to match. She is cerebral but relaxing with an uplifting turn. This means she is often recommended to those who are struggling with depression or stress. Sour Diesel likes a warmer climate and her roots take extremely well to hydroponic systems. She has a surprisingly high CBD content of 1 – 5% which makes her even better suited to medicinal use. The THC is also high at 19%, so she probably shouldn't be used as a day time medication. Her flavour profile is sweet and sour with a spicy scent that immediately relaxes the brain. Sour Diesel produces good yields and is an ideal strain for those who are just starting out in hydroponic growing.
Girl Scout Cookies
GSC is one of California's most popular strains due to her potency and her classic effect. She is perfect for anyone who's after a full-body high that leaks nicely into the mind. This strain is ideal for just lounging around like a squishy comfortable lump with snacks and a nice film. Girl Scout Cookies is also known for its visual aspects. The plants turn a lovely dark green with hints of purple and bright orange hairs. The THC level is usually around 18 – 25% with a low CBD level of 0 – 1%. She also produces incredible yields and can get up to 600g/m2 if she is treated well. Again this is a perfect strain for hydroponic growers as she is robust and capable of just doing her thing.
As always do plenty of research to ensure the best strain is purchased for the chosen growing method.
Remember: It is illegal to germinate cannabis seeds in many countries including the UK. It is our duty to inform you of this fact and to urge you to obey all of your local laws to the letter. The Vault only ever sells or sends out seeds for souvenir, collection or novelty purposes.
Make sure you never miss another Vault promo and sign up for our newsletter at http://goo.gl/Bt2Ba2